4. Festiwal Pianistów Jazzowych w Warszawie 2006
oraz III Konkurs Pianistów Jazzowych - DEBIUTY
Artyści IV Warszawskiego Festiwalu Pianistów Jazzowych 2006
Vladimir Chekasin
Litwa / Lithuania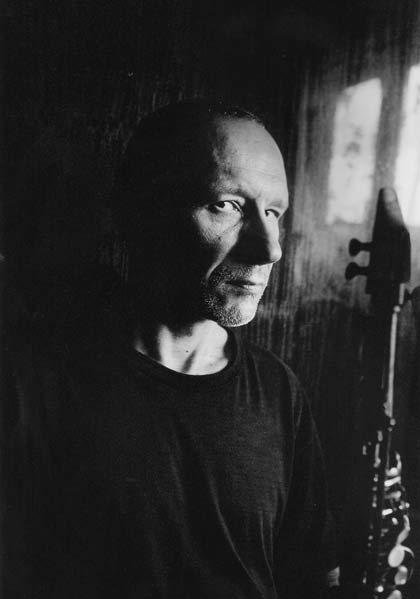 Vladimir Chekasin composer, instrumentalist-performer, producer (film-director), teacher Was born in 1947 in Yekaterinburg. Started to play violin and piano from six, clarnet from fifteen years old. In 1965 finished a special music school, 1970 - Music Academy of Yekaterinburg.
The beginning of his international performing was at "Praga-71" festival, where he's got the first prize. Also his first album "Meeting" (Setkani) was recorded there. Vladimir Chekasin has recorded about 60 original music (his own or with other authors) albums since, had a lot of concerts and took part in the biggest festivals in all countries of Europe, USA, Canada, Cuba, Japan, India and others.
From 1994 constantly co-operating with one of the central Moscow stage - Central Artist's House's hall. On this stage working as a composer, performer, producer, making sincretic perfomings with actors and musicians from different countries (about 10-12 perfomings a year).
Also working in theater and cinema sphere from 1975. In 1991 P.Lungin's movie "TAXI-BLUES" with music of V.Chekasin has got the first prize at the Canne festival. And in 1992 the film "Bolero, or provincial melodrama with emotional outburst", where V.Chekasin was composer and producer (second producer M.Bezchastnov), has got first prize at the "Post-Montreux" festival. The plays with Chekasin's music are going on in the famous Moscow theatres. From 1975 - working as a teacher in Lithuanian Music Academy and special B.Dvarionas music school. V.Chekasin's ex-students are so well known Lithuanian musiciants like P.Visniauskas, V.Labutis, N.Malunavicute, S.Sasnauskas and others.
Vladimir Chekasin Diskographie and other Works
With Rudolf Dasek, Klaus Koch, Imre Mozi & Laco Tropp:
SETKANI - Supraphon 115 1308

With Vyacheslav Ganelin and Vladimir Tarasov (the Ganelin trio):
VYATCHESLAV GANELIN TRIO - Poljazz Z-SX 0628
JAZZ JAMBOREE '76 Vol. 1 (compilation) - Muza SX 1454
CON ANIMA - Melodija C60-07361 - Melodija C60-14433
CONCERTO GROSSOJazz Festival "Tbilisi-78" (compilation) - Melodija C60-14319
JAZZBUHNE BERLIN '79 (compilation) - AMIGA 8 55 749
CATALOGUE (LIVE IN EAST GERMANY) - Leo Records LR 102
CON FUOCO - Leo Records 106
ANCORA DA CAPO, Part 1 - Leo Records 108
ANCORA DA CAPO, Part 2 - Leo Records 109
ANCORA DA CAPO Supraphon 1115 3014, Hat Hut Records 2027
POI SEQUE... Melodija C60-17485
ANCORA DA CAPO - Supraphon 1115 3014
POI SEQUE... - Melodija C60-17485
NON TROPPO - Enja 4036, Hat Hut Records 2027
NEW WINE - Leo Records LR 112
VIDE - Leo Records LR 117
STRICTLY FOR OUR FRIENDS - Leo Records LR 120
VIII-th Moscow festival "Jazz-82", Vol. 2 (compiliation) - Melodija C60-21537
BALTIC TRIANGLE - Leo Records LR 125
CON AFFETTO - Leo Records LR 117
SEMPLICE - Melodija C60-21121
Leningrad Jazz Festival "AUTUMN RHYTMS-83" Vol. 1 (compilation) - Melodija C60-21537
TTANGO... IN NICKELSDORF - Leo Records LR 400/401
... OLD BOOTTLES - Leo Records LR 808
BRATISLAVA JAZZ DAYS '85 (compiliation) - POUS 9115 1810-11

With his quartet:
NOSTALGIA - Leo Records LR 119
THE MEMOIRS - Melodija C60-24479
Leningrad Jazz Festival "AUTUMN RHYTMS-83" Vol. 2 (compilation) - Melodija C60-21539
NOMEN NOSCIO - Melodija C60-26197
ANTI-SHOW - Leo Records LR 165

With his big band:
NEW VITALITY - Leo Records LR 142
IS THIS POSSIBLE? - Melodija C60-25691
CONCERTO FOR VOICE AND ORCHESTRA - Melodija C60-24479
Jazz Festival "BIRSTONAS-86" Vol. 2 (compilation) - Melodija C60-25057
With Vyacheslav Ganelin:
3 - i = 3 - Leo Records LR 410/411

With Vladimir Tarasov:
1 + 1 = 3 - Leo Records LR 160

With Vladimir Tarasov and the soloist's ensemble of the Symphony Orchestra of the Lithuania National Philharmonics:
JUBILEUM CONCERT OF ANTANAS REKASHIUS - Melodija C10-13699-700

With Sergey Kuryokhin and Boris Grebenshvhikov:
EXERCISES - Leo Records LR 115
EXERCISES - Leo Records LR 806

With Oleg Molokoedov:
Leningrad Jazz Festival "AUTUMN RHYTMS-85" Vol. 2 (compilation) - Melodija C60-24015
Solo And Duo in Blue - Leo Records LR 808

With Leonid Chizhik:
Leningrad Jazz Festival "AUTUMN RHYTMS-86" (compilation) - Melodija C60-25587

With Valentina Ponomareva:
FORTUNE-TELLER - Leo Records LR 136

With Mario Schiano, Sebi Tramontana and Vladimir Tarasov:
RED & BLUE - SPLASC(H) Historical Performances HP-15